What are Walmart pickup hours?
There was a time when Walmart Pickup used to be only available for grocery items. But that is not the case anymore. Now they offer in-store and curbside pickup offer for all types of items, such as clothes, kitchen essentials, home decor, seasonal items, school supplies, and more.
If you want to cut costs on Walmart delivery, then this is the best option to consider. So, if you are planning to opt for Walmart home delivery alternatives, you definitely need to have an idea about Walmart.
This is where different questions arise; questions such as – what are Walmart pickup hours? How do they work? How much does Walmart pickup cost? If all of these questions bother you, then you will find their answers in this article.
Type of Walmart Pickup Services
There are two options when it comes to Walmart pickups –
in-store pickup
Curbside pickup
The types of pick-up options you choose don't change the way you shop. You will continue to shop the same way you used to. The process is pretty simple. You have to place your pickup order using the Walmart app (both on iOS and Android) and then reserve a slot of 1 hour for picking up the items.  You only have an hour before you complete your shopping orders.
When your order is prepared for pickup, Walmart will notify you through an email letting you know that your orders are ready. You can also use the Walmart app to check in and let them know that you are on your way to pick them up. But how does the pick-up process work? Here are the steps to help you.
In-Store Pick Up
When you opt for an in-store pickup process, you will have to head to the pickup spot in the Walmart store. You will find the pick-up sign throughout the parking lot taking you to the right door.
Curbside Pickup
If you are opting for curbside pick-up instead, the process is a bit different. You only have to park your car at the designated parking lot and stay inside your car. You can call the number on the sign or let them know about your arrival using the app. You will have a Walmart associate assist you with loading the ordered items on your backseat or the trunk.
But what are Walmart pickup hours? When can you expect to pick up your order after placing a pickup request? You will find the answer below.
What Are Walmart Pickup Hours?
You can use the Walmart pickup services seven days a week, and the pickup hours last between 7 a.m. to 10 p.m. in local time at different locations. You can pick up your order on the same day if you place your order before 4 p.m. But, if you are ordering after 4 p.m., you have to wait until the next morning to pick up the order quickly. Walmart curbside and in-store pick-up should be available within this time slot in different locations of the country.
Walmart Pickup Cost
You can avail of free curbside pickup at Walmart for orders of $35 and above. However, you can also place an order below $35; but, in that case, you have to pay a $5.99 service fee. In addition to that, Walmart also does not markup curbside for their products, which means – that you will find the product for the same price as an in-store purchase.
No, there is no minimum cap for how less you can purchase using Walmart pick-up services. You can also choose to purchase products under the price of $35. But for orders placed under the price of $35, you have to pay a service fee of $5.99
Which Products Are Available For Curbside Pick Up At Walmart?
Earlier, you could only pick up groceries and similar items through Walmart pickup services. However, right now, you can pick up different products such as – Clothing, electronics, furniture, pet supplies, medicines, and more. Simply, you can pick up pretty much all the products you usually order from Walmart.
So, the products you can pick up and cannot pick up depend only on the remaining stock at the location. There are almost 142,000 different items you can choose from at Walmart stores. Also, Walmart pharmacy also offers curbside pickup of medicines and different pharmaceutical products.
The Walmart pharmacy offers contactless purchases of prescription medicines through the Walmart app. At different locations, you can choose to drive through pick-ups and minimize contact during a purchase. If you are wondering, "Can I order groceries using Walmart curbside pickup?" then the answer is also yes; you can.
Tips For Using Walmart Pickup Hours Effectively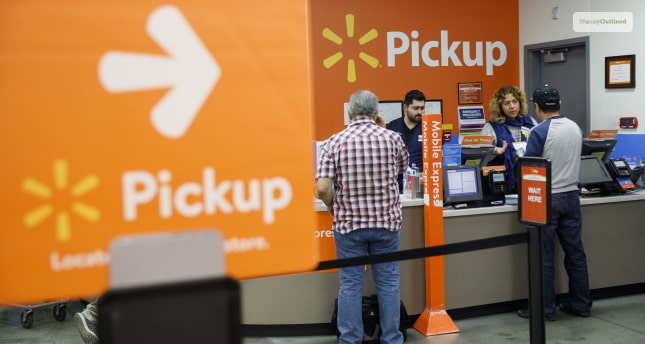 Here are some handy tips for using Walmart's curbside service effectively for a quick order pickup.
Plan Your Orders Ahead
If you don't want to wait for hours before you can pick up your orders, you have to plan them accordingly and efficiently. Sometimes the store might process a lot of orders delaying your delivery and making you wait in line. So, if you want to avoid such a situation, you need to order as soon as possible. Also, make sure to order before 4:00 p.m. if you want to pick it up on the day you ordered.
Opt For Substitution Preferences
Some of the items you order may not be available. So, what you can do is keep the option for substitutes open. If you set "Substitution preferences," Walmart will replace out-of-stock products with similar ones.
Check-In Using The App
Before you arrive at the store location, you can check in using the app to let them know that you are on your way to pick up your orders. It's an alert for the store to ready your order quickly.
Set Up Your Bagging Preferences
You can get your order bagged up. Walmart, in this case, might or might not charge you a fee depending on the local laws. You can also skip bagging your order by selecting the "bag fee."
Bottom Line
If you want to put Walmart pickup hours effectively, you can use the tips I have listed above. Also, always place your order before 4:00 p.m. to get your order delivered on time. However, if you have any queries related to the same, you can let us know through the comment section. We will try to answer them in due time. Thanks for reading until the end with patience.
Read Also About: