Cyber security is nothing new. But as the web world keeps expanding, so does the need for a secure experience on the internet. CISO is a USA-based cyber security company offering different types of cyber security services. You can now trade CISO stocks or add them to your investment portfolio.
The company went public on the Nasdaq capital market in 2022 and had been trading since January. It has a market cap of 429.987. If you are interested in this stock for investment, or if you want to invest in it, then the following article may help you with valuable information.
CISO Stock Quarterly Income statement: September 2022
| | | |
| --- | --- | --- |
| USD | Month | Y/Y Change |
| Revenue | 11.25M | ⬆️ 200.48% |
| Operating expense | 9.35M | ⬆️ 158.75% |
| Net income | -8.50M | ⬇️ -277.34% |
| Net profit margin | -75.54 | ⬇️ -25.57% |
| Earnings per share | – | – |
| EBITDA | -7.45M | ⬇️ -139.80% |
Read more: RKLY Stock: A Brief Guide
About CISO Stock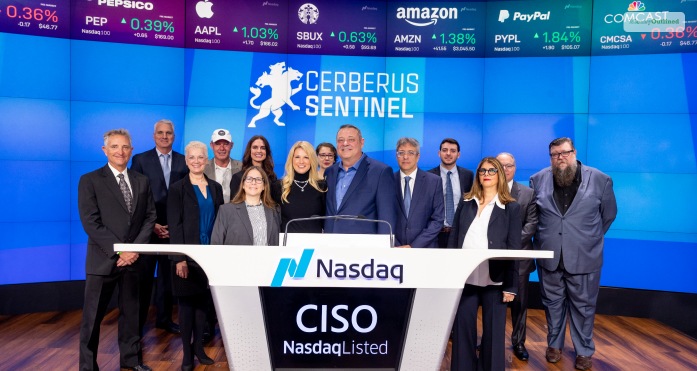 CISO or Cerberus Cyber Sentinel Corporation works as a company providing cyber security services. It is currently headquartered in Scottsdale, Arizona. David G. Jemmett and Stephen Scot founded CISO in 2019. They operate with around 185 employees.
The company includes various types of services listed under the cyber security category. Here are some of the services they offer to clients –managed security, cybersecurity consulting, compliance auditing, penetration testing, disaster recovery, vulnerability assessment, and data backup solutions. 
They also offer cyber security training services such as training services, consulting services, etc. Here is a quick overview of the CISO stock. 
65 DAYS AVERAGE
| | |
| --- | --- |
| Volume | 107.71K |
| Market Value | $443.15M |
| Shares Outstanding | 146.25M |
| EPS (TTM) | -$0.4351 |
| P/E Ratio (TTM) | N/A |
| Dividend Yield | N/A |
| Fiscal Year End (12/2022) | $15.14 M |
| Latest Dividend | N/A |
| Ex-Dividend Date | N/A |
| Beta | 1.35 |
| Short Interest | 679.23K (11/15/22) |
| Short Interest Change | 679.23K |
| Percent of Float | 1.29% |
Read more: PBIP Stock: A Brief Guide
Risk & Rewards Upon Investing In CISO Stock
Stock investment comes with various merits and drawbacks. You might face both profit and loss in short and long-term investments. CISO stocks, similar to all the other stocks, come with different rewards and risks. Here is a small analysis of this stock.
Rewards In Investment
The revenue of CISO stock is forecasted to grow at 47.83% each year.
The stock is trading at 10.6% below our estimate of the fair value.
Trading at 10.6% below our estimate of its fair value.
Risk In Investment
If you buy it now, it is forecast to remain unprofitable during the upcoming 3 years. However, that might change after 3 years.
The stock has a cash runway of less than 1 year.
During the past three months, the share price was volatile.
Many shareholders of the CISO stocks have been diluted in the years before.
Read more: Doma Stock: A Brief Guide
What Is Cerberus Cyber Sentinel's Stock Price Forecast For 2023?
If you are thinking of investing, then this might be helpful–
Brokers have issued the price objective of 12 months for the CISO stocks. According to them, the CISO stock price forecast will range from $5.00 to $5.00. They anticipate the company's share price to touch a price of $5.00 within the upcoming 12 months.
It also suggests a possible upside of the CISO stock from 65% to 71.01% from its current price. Wall Street equities research analysts have revealed their consensus for the CISO stock. According to them, investors should BUY the stock.
CISO Stock 2022 Performance Overview:
At the beginning of 2022, CISO stock was trading at $19.50. However, the price has decreased by 84.9%, and the stock is now trading at $2.94. They trade on the OTC under the ticker symbol of CISO. as of 2022; they have a yearly revenue of $15.14. 
Disclaimer
Stock market is extremely volatile. All the data provided in this article are taken from the current and historical data about the stock on the internet. This article does not encourage or dissuade you from investing in this stock. However, if you are interested in investing in this stock, you should do it at your own risk. It would help if you researched the stock before investing in it.
Frequently Asked Questions (FAQ):
Here are some widely asked questions about the CISO stock.
Q1. Is CISO A Good Stock To Hold?
The CISO stock shows a good prospect. According to Wall Street equities research analysts, the stock is a good buy and hold for the future. So, if you plan to buy this stock and hold it, you may do so by the end of 2022. 
Q2. How Much Money Does CISO Make?
Cerberus Cyber Sentinel Corporation, or CISO, is a company with a market cap of $443.15M. Cyber security as an industry is growing, and CISO has a huge list of prospects and a revenue generation of $15.14 million every year. 
Q3. How Can I Buy CISO Shares From India?
You can buy CERBERUS CYBER SENTINEL CORP. easily in India. You can do it with INDmoney. It is easy to open a US stock account, and it will only take less than 3 minutes. You can transfer the funds within 24 hours and buy the stock easily at 0 brokerage and account opening and management fee. 
Conclusion
So, that concludes everything about CISO stocks. If you are looking for a good stock to buy, you might consider CISO. However, you should consider the value of the stock at the time of buying. Also, you have to see the stock's future prospects and understand the probability of the stock rising in the future. The overview in this article should help you understand this stock's position as of 2022.
Did you find this review helpful? Please share your feedback on it. Also, if you have any questions, you can leave them in the comment box.
Read Also: