Doma stocks are widely talked about these days. However, not many companies have tried to evolve the real industry with the help of technology. The company builds machine intelligence technology to help streamline real estate transactions.
The company went public last year via a merger with a SPAC. Although the company's management has great aspirations, the stock price has become depressed since the merger. There are different underlying factors ( including covid) suggesting a fear of inflation.
So, is this stock worth investing in? Or should you just sell it as soon as possible? Let me help you find out through this article.
About Doma Stock
After the merger, the Doma holding stock price has become depressed. The November data shows that Doma Stock Holding had a $144.8 market cap. The market capitalization puts Doma in the 36th percentage in the Insurance – Property & Casualty industry.
Doma had negative income data according to the data from the past 12 months. Due to this, they don't have a meaningful P/E. However, the involvement of technology to streamline transactions in the real estate industry makes it an interesting company to look at.
The antiquated transaction process in the real estate industry can potentially be disrupted through modernization, which companies like Doma is ready to deliver. In addition, the U.S. boasts a trillion-dollar housing market industry, and Doma could potentially make big earnings from it.
However, it depends upon their capability to gain traction and the market's understanding of their offerings.
Why Is Doma Stock Dropping?
Doma had negative earnings over the last 12 months. As a result, they have no meaningful P/E. The trailing 12-month revenue of Doma Holding Inc is $481.5 million with a profit margin of -49.1%. Also, the most recent sales growth on a year-over-year basis was -33.6%.
Analysts report the adjusted earnings to reach -$0.705 for each share in the current fiscal year. They currently don't pay any dividends. Suffering a sudden loss is part and parcel of the stock industry. However, the stock price of Doma Stock Holding has plunged by 64%. The company has not been listed for a significant time period. So, although the recent decline of the Doma Stock price was significant ( 39% within the last three months. ), it can still prove itself with time.
The inflation in claim cost supposedly results from the covid pandemic. Also, there were some uncertainties in the claim cost. The conflict in Ukraine is also another supposed reason.
The stock has been exponentially downsized within the last few months. Doma stocks suffered a net loss of $3.6 million last year, which the third quarter of this year surpassed with $34.3 million.
The current data in November shows that the company has been suffering extreme loss.
Currently, the stock is usually going downward. However, that might change within the last three months. Since the stock price is going downward, many investors can sell their Doma stocks. However, some patient investors might still want to hold on to their Doma Inc Stocks thinking of the long term.
Is Doma Stock Good For Long-Term Investment?
Although the Doma stock price might be depressed now, it may still pose an opportunity for some investors. Many investors look for depressed stocks as a buying opportunity.
The company is very young. It has been only a year since the company was listed on the stock market. Its services are still new to the market and have yet to gain traction. Some are speculating that the company is in its early position of adoption. 
However, according to some analysts, the industry profits will expectedly increase within 2022. They have several reasons to back it up. For example, the company was listed in July 2021. During that time, Doma Stocks saw significant growth. It grew by 36% rapidly.
If you take a peek at the current numbers, Doma successfully captures customers. The increasing list of customers of Doma Holding Inc includes JPMorgan Chase and Wells Fargo. Their management estimates the TAM of Doma to be at $23 billion for their current offering.
They also wish to expand into the warranties; they estimate that the expansion will add another $11 billion to their TAM.
Doma stocks are indeed depressed as of now. However, if you consider its market opportunities, Doma has potential in the recent future. They can potentially disrupt the real estate industry through the adoption of technology. The future prospects of this company make Doma stocks good options to purchase and hold in your portfolio for the long term.
Should You Buy Doma Stocks?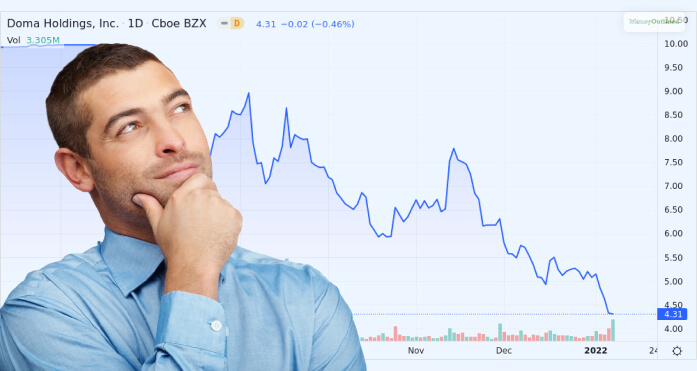 Doma offers valuable services to the real estate industry. Although the current price of the Doma stocks looks depressed, it can still be a good option to buy and hold their stock judging the service they offer. However, you should only proceed after thorough research and make decisions mindfully. 
Frequently Asked Questions
Here are some popular questions about Doma Stocks that people look for answers to–
1. Does Lennar Own Doma?
Doma is partially owned by Lenner, a big homebuilder company in the US. The company aims to streamline real estate transactions and make the process of owning a house as simple as booking a ride. 
2. Is Doma A Good Stock?
Long-term investors look for depressed stocks as an opportunity for long-term holding. Doma's current state may be downwards; many analysts suggest it is a good buy for the long term.
3. Will DOMA go up?
Prediction of the average Doma Inc stock price forecasts a possible upside of 525.89%  from its current share price of $0.51. The Doma stocks are in a depressed state as of now. However, its recent service offerings and list of customers show a potential rise.
Disclaimer 
*All the information and commentary delivered through this article are based on historical data and the commentary of different analysts. Stock investments can be risky and volatile. So, you should always invest mindfully and at your own risk. *
I think this article was helpful. If you have any further queries about the same, you can reach out to us in the comment section.
Read More: