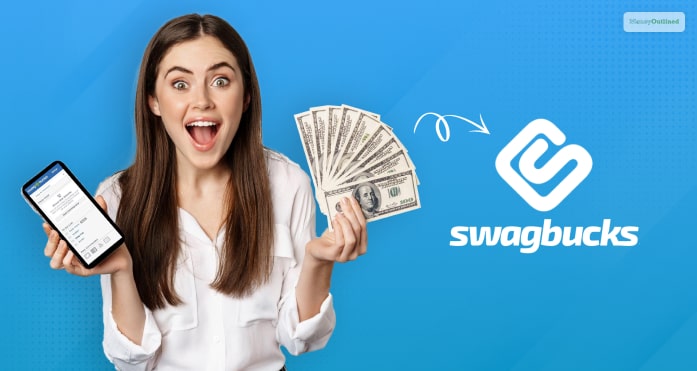 When you use apps like Swagbucks, you should not expect to make a hell lot of money from them. The point of these apps is to help you earn money for the normal things you do. Also, you don't earn more than the amount of a couple of movie tickets or some gift cards every month.
The app makes sure that you get paid for online shopping, web surfing, and buying gifts. Of course they have additional programs like taking the Swagbucks daily poll, answering their queries, or taking surveys. However, they won't offer you much to cash out tons of money.
Here is a review to help you learn more about the app. We have started by answering what Swagbucks is.
What Is Swagbucks?
Swagbucks is among the many rewards sites for mobile users. Users can make money from online surveys and web surfing, and for online shopping using this application. The users can download and use the application for free. They can earn Swagbucks points and redeem them for cash or gift cards. The earning involves completing some simple online tusk.
If you don't want to put much effort and still earn some money, you can start using the Swagbucks Search Engine for your daily web browsing. This allows you to earn rewards without even trying to do it.
But, whether you are using it too often or you are using it constantly, you cannot use it as your source of income. These apps are good for earning a little amount of money with a little amount of effort.
Is Swagbucks Legit?
Yes, the Swagbucks application is pretty legit. If you are thinking of using it to make some money while casually browsing the internet, you can do so without any worry. The parent company of the Swagbucks app, Prodege LLC, has a B rating from Better Business Bureau.
The App also has a great star rating from the review platforms such as Trustpilot. They Rate Swagbucks with a 4.3 rating out of 5. There are more than 32,500 customer reviews, with 83% of them rating the app as having a "great" or "excellent" experience.
Although it is legit, many users still wonder how might this be possible. Can you really earn Gift cards for Amazon, Visa, or Apple just by doing surveys, making online purchases, and watching videos? Yes, you can, and the Swagbucks app is pretty legit. There is no doubt about it.
How Does Swagbucks App Work?
You can create free Swagbucks accounts on your mobile phone. They offer you a $20 bonus just for signing up on the application. Once you have created your account, you can go and start taking surveys or use the SB Browser to make money.
No, you will not earn money directly. Completing the surveys and finishing other tasks will offer you SB points that you can convert into cash or gift cards. So, how to convert Swagbucks to PayPal or Swagbucks to
Swagbucks To Gift Cards
You can cash in the SB Points for free Visa gift cards, Amazon gift cards, or gift cards for different retail or restaurant chains like Target, Starbucks, Home Depot, Walmart, Old Navy, Kohls, and many other leading companies.
Swagbucks To Paypal
You can deposit the SB points as cash using your PayPal account. Once you submit your SB Points as money to your PayPal account, you can use this money to make purchases almost everywhere. You can also transfer the money to your bank account ( this will, however, cost a fee).
Before you start using this application, you should know that you have to be at least 13 years old. Once you download and sign in to the application, you will earn a reward of $20.
Different Ways To Earn Using Swagbucks
You can take surveys or shop online using Swagbucks to make money online.
Take Surveys
Use the Mobile App
Shop Online
Search the Web
Watch Videos
Play Games
Discover Deals
Buy Gift Cards
Upload Receipts
Enter Swag Codes
Refer Friends
Print Coupons
Pros & Cons Of Swagbucks
The biggest problem with such apps and platforms is that users might often lose their patience in collecting reward points. Here are the pros and cons of the app to help you understand more about this platform.
Pros
Easy Rewards
Great Mobile App
Multiple Ways To Make Money
Intuitive Platform
Cons
Watching videos does not allow you to earn much.
Swagbucks Review
The app is definitely not a scam and is pretty legit. It has a good rating on different platforms like Trustpilot and Scamadviser. Scamadvisor gives the platform a trust score of 100 out of 100. Since many of the users of Swagbucks are android users, we have taken reviews from Google Play Store to help readers understand its legitimacy.
Review 1
I use Swagbucks and the Answer app. It does a great job of showing me what surveys are available, as well as keeping track of the Swagbucks I have earned and how I can redeem them. It would be 5 stars if the web search worked better. Often, when I click on my selection, the screen goes blank, and when it does go to the content, it almost always just stops in the middle of the page. There's no way to go beyond that point. If I click to go back, I have to start all over again! Frustrating!
Review 2
The surveys can be pretty rewarding. However, there is room for improvement. Some of the surveys are way too long or don't reward enough points, or both. The app is often glitchy and keeps loading. If I hit the back arrow on accident, I have no way of going back in the survey or no record of starting it. Sometimes the screenings are so long that I thought I was taking the survey, only to get disqualified. Or I'll be close to finishing the survey only to get an error message. Fix it!
Review 3
This app has always been troubling, and I always do my best to avoid it, but at the swago event, it is required to complete a survey. When doing a survey, all you have access to is the refresh button and a button to go back to the survey list. No url, no back or forward button incase you get an error on the page. Just that. You're better off completing surveys on the mobile browser than using this app. I could type more but google has a limit.
Bottom Line
Some of the high authority review platforms as well as websites, rank the Swagbucks app as a legitimate and trustworthy source for earning money. Many of them rank the platform between 8 to which is pretty decent. If you spend time using the browser all the time, you can make some money along the way using the Swagbucks application. But, the app cannot be treated as a primary source of income. I hope that you have got a clear idea about this reward-based earning app. If you have any queries, please leave them in the comment section.
Have A Look :-