"If you don't find a way to make money while you sleep, you will work until you die."

WARREN BUFFET
In the modern world, it is vital to make money while sleeping. It can help a person to be on a proper track in life. However, there are only a little fraction of people believe in this aspect. In all leading countries, you can find more workers than investors.
Well, if you have lately realized the above quote, probably you are looking for something to invest in. Here, you can get to know about the equity funds. Moreover, there is information about the right way to invest. Lastly, you can check out the considerations to choose the right fund too.
So, all you need to do right now to just go through the following sections of the article thoroughly. Have a look:
Equity Funds: Definition
An equity fund is just a type of mutual fund where the investors need to buy shares. In turn, the fund purchases stocks from numerous companies in the market.
An investor who buys a share (technically known as equity), has some ownership of the asset. So, s per the theory of fractional ownership, the company has to give a part of its profit/loss to the inventors.
New investors can invest in equity funds as they are easy to track. Moreover, these funds are managed by experienced money managers. They have a lookout to gain the most from the fund.
Vitalities Of Equity Fund Investment
Mostly, the money managers attract the investors to the private equity funds and it comes with two vitalities. They are:
The novice attitude of the investors: As an investor, it is easy to learn what are equity funds and deal with stocks within them. It is obvious that a novice investor cannot do extensive research and invest in stocks directly.
Helps to build portfolio: Investment experts suggest that investors choose equity mutual funds as it helps them to build their portfolios. This helps the investors to earn more. On the other way, most investors avoid leaving the investment market with a diversified portfolio.
Right Way To Invest In Equity Funds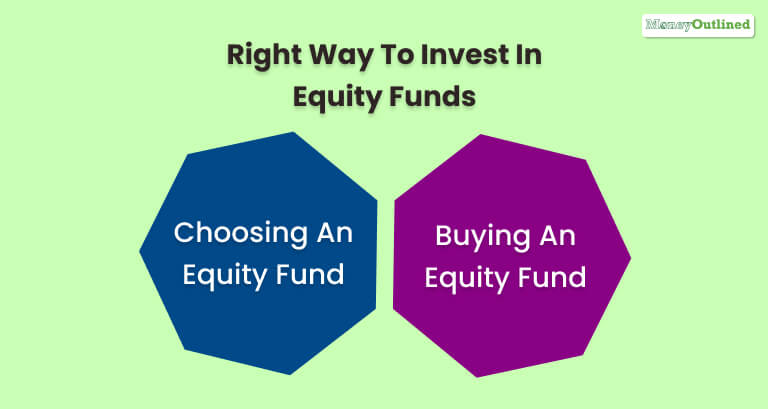 A major problem among the investors is that they love screaming. Well, check yourself out. Probably, till now, your soul was screaming for knowing what are equity funds. Now that you know it, your soul asks, how to invest in it? So, here is the answer.
In this part, you can check out the process of investing in equity funds. Check out:
Step 1: Choosing An Equity Fund
The primary thing you need to do in the case of equity fund investment is to choose one. Check out the themes here and choose the suitable fund for yourself:
The company list (index fund).
The industry in which the company belongs.
Location of the company.
Size of the company.
Step 2: Buying An Equity Fund
There are three ways to buy equity funds. You can choose either of the ways. Check out the ways below:
Getting an equity fund from the fund provider.
Getting a brokerage account for yourself for equity income funds.
With the help of an employer-sponsored account.
It is very important to choose the right fund provider for getting good returns from an equity fund. So, make sure to check the repute of a company while shortlisting. It is more important to know this than to know what are private equity funds.
Moreover, you must check out the fund manager too. Keep in mind, that your ROI would largely depend on the skills of your fund manager. You can expect to get reviews about your fund manager on the provider's website.
Benefits Of Equity Funds Investment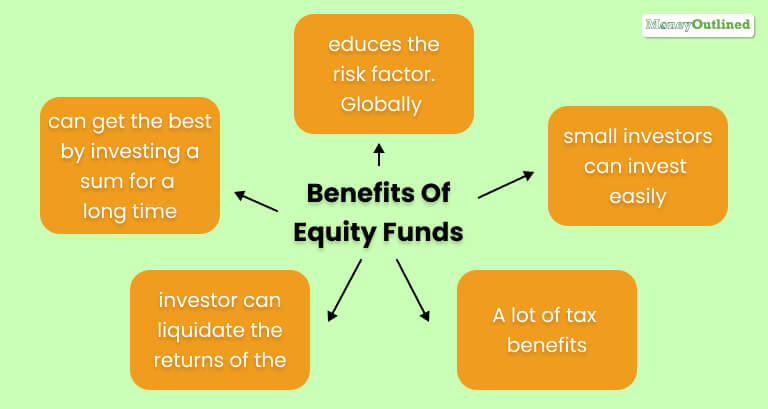 There are some outstanding benefits of investing in equity funds. Check out the points given below to learn:
In equity fund investments, sector, and stock diversification prominently reduces the risk factor.
Globally, equity funds act as one of the finance vehicles where small investors can invest easily.
All equity fund investors can get a lot of tax benefits.
In any case, the investor can liquidate the returns of the equity funds.
One can get the best from the equity funds by investing a sum for a long time.
Turndowns Of EFs
As there are some pros and cons for everything, you need to check the turndowns of EFs here:
Equity funds come with high volatility.
The fees of maintaining n equity fund are generally high.
Purchasing an EF can be a time-consuming process.
Frequently Asked Questions (FAQs):
1. How Do Beginners Invest In Stocks?
Beginners can invest in stocks by taking the help of an equity fund. Top-notch equity funds are managed by excellent money managers. So, they can expect to get outstanding returns. 
2. How Can I Invest With Little Money?
Little money investments are possible in case an investor buys fractional shares and ETFs. Moreover, you can lend money to your peers with a favorable amount of investments. You can even invest in cryptocurrencies if the market remains stable. 
3. Is Equity Fund A Good Investment?
Yes, equity funds are a good investment for new investors. If you are a new investor, you can get the best outcome from EFs holding it for a long time. 
4. What Are The 4 Types Of Investments?
The four types of investments are as follows:
⦿ Growth investments.
⦿ Cash investments.
⦿ Share investments.
⦿ Property investments.
Final Thoughts: A Go Or A No!
Obviously, a GO! As a new investor, you must always choose to spend on the equity funds. However, always avoid coming under someone's influence. The best you can do is research the best fund providers on your own.
You can get a clear idea about the equity funds by going through the customers' review section on the website. You must also talk with an expert before finalizing a specific fund provider.
Remember, an investment on equity must have a minimum tenure of 10 years. As a result, you can expect to get excellent returns. However, you must also have a proper risk appetite as an investor. Otherwise, it will be very tough for you to hold on to the fund for such a long period.
Read Also: