If you are an online investor and looking for a zero-commission trading platform, then Moomoo is a great platform to consider.
It allows you to trade stocks and ETFs for zero commission on the platform, and the platform boasts some robust features available on both mobile and desktops.
The platform is good for novice traders who are still learning and advanced pros who need new and advanced tools to excel at trading.
So, if you are interested in investing in this platform, you need to check this small review we have put together.
What Is Moomoo?
Moomoo is an online trading platform offering zero-commission trading for ETFs, Stocks. The platform is known for no commission and no-account minimum trading options. The powerful suite of tools provided by Moomoo features AI-supported alerts, real-time data, etc.
You get share market access to the US, Hong Kong, and China with only one account. Traders can use the app on their iOS, android phones. The app also has a web-based platform. Users can use the application on Mac or Windows PC. the platform allows traders to sync customized alerts, setups, and notifications across different devices.
The platform is a completely owned subsidiary of the platform named Moomoo Financial. The parent company is a broker-dealer registered with U.S. Securities & Exchange Commission; it is also a member of Finra and the SIPC (Securities Investor Protection Corporation). SIPC protects customers in case the brokerage firm they invested in fails.
Moomoo Features
Moomoo has different features making it a great platform for trading online. Here are some of the most important features of this platform that investors must know before venturing into this platform.
Commission-Free Trading
Moomoo offers commission-free trading for stocks, ETFs, and ADRs for traders based in the US markets. Thanks to ADRs, US-based investors can invest in non-US stocks without dealing with foreign stock markets directly.
Advanced & Customizable Platform
Moomoo is one of the best platforms for trading when seen from the aspect of customization. Traders can search for stocks easily and set push notifications and alerts. The desktop trading platform is user-friendly and offers maximumly customizable.
Updated Research Tools
Moomoo excels at offering advanced research tools. It differentiates itself from the rest of the brokerage platforms via a massive number of research tools. The technical and cheating tools offered by Moomoo are far ahead in competition compared to the other platforms.
Real-Time Level 2 Market Data For Free
Moomoo is among the only platforms to offer real-time data on the level 2 market from the New York Stock Exchange. Traders can use this tool ( usually reserved for advanced-level investors) to gain valuable insights about investments.
Free Paper-Trading
If you want to get into trading but don't feel comfortable yet, you can use the Paper trading offered by Moomoo to start trading simulations. The advanced free paper trading offered by Moomoo will help traders test their trading strategies without worrying about losing any of their money.
Platform Availability
Moomoo offers a round availability when it comes to trading. Traders can use these platforms irrespective of their platform preference. Moomoo is equally available on both android and iOS. Moomoo is also available for desktop users ( both Windows and Mac).
It is easy to sync your trading account across different platforms and customize it according to your needs. Traders can set up highly personalized alerts for different stock movements, important market changes, and more. Moomoo also allows traders to sort their stocks and based on technical factors, market factors, and fundamental analysis.
Trading Fees
What might interest newbie investors most is that Moomoo is a trading platform that does not require any charges for the platform or inactivity on the platform. Traders also don't have to worry about a minimum deposit requirement when signing up on Moomoo.
But there are different fee standards investors and traders need to be aware of. For example –
Returned Check / ACH fees – For the first deposit, $5, and $10 for the subsequent ones.
Domestic wire, incoming – $10.
Domestic wire, outgoing -$20
International wire, outgoing – $25
International wire, incoming – $10
Paper statements – $3
Stock transfer, outgoing- $75
Assisted phone trades- $10
Moomoo Pros & Cons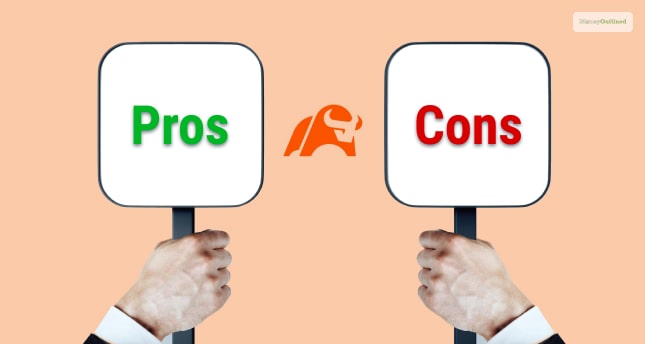 Just like there are some benefits of using this platform, there are also many cons that traders need to take into account. Here are some of the pros and cons of this platform –
Pros
The platform offers commission-free stocks, ETFs, and more.
The platform is advanced for trading and offers many customization options.
There are many advanced research tools for investors.
Real-time level 2 market data
Free paper-trading options are available.
Cons
The platform offers limited product and account types.
Customer service options are limited.
High margin rates.
The trading platform and the tools can be overwhelming.
Moomoo Alternatives
There are many full-service brokers to consider if you want to trade using an online trading platform. If you are looking for a good alternative to Moomoo, then try the following platform for online trading.
TD Ameritrade
TD Ameritrade is one of the big broker platforms offering the most comprehensive banking and investing experience among traders. Also, you have zero commission trading options for ETF, mutual funds, and forex access. The zero trade-fee option of the TD Ameritrade platform makes it a good Moomoo alternative.
Robinhood
When it comes to simple-to-use trading platforms, Robinhood offers a low-margin trading option. It is also a great mobile investment application. They offer zero commissions for stocks, mutual funds, and ETFs. Using Robinhood, investors can earn higher yields on uninvested cash and access to Cryptocurrencies.
Bottom Line
Moomoo is a good investment application and is profitable for investors who want to invest using stocks, ETFs, and other options. It is also a great platform for traders who value different advanced trading tools. Due to the availability of paper trading, investors can trade without having to invest money. It provides a great option for traders who want to trade with less money. I hope that our review of this platform was helpful. However, if you need to ask any questions related to the same, please leave them in the comment section. We will answer them as soon as possible.
Read More About: