For office workers worldwide, traveling to the office and communicating with colleagues while working was an enjoyable experience. Then came the covid19 pandemic, and every one was compelled to work from home. Can you possibly fathom running a virtual business without the notion of actual office space after years of working in an office?
We will discuss exactly that in this article, as well as how to go about it efficiently. The idea of managing a virtual business is not new. However, due to the epidemic, more organizations have begun to embrace a remote working environment. It provided for greater flexibility while also reducing overhead expenditures. So, let's take a look at how to run it effectively this year.
But, before that, let's find out what a virtual business is precise.
What Is A Virtual Business?
As the name implies, a virtual business has little or no physical presence and relies on digital technologies and information systems to get things done. Employees usually work from home or at a co-working facility that the firm has set up worldwide.
Depending on the sort of business and the duties of the employees, a virtual business might be partially or entirely remote. Zapier, Buffer, FlexJobs, and TimeDoctor are all examples of successful virtual businesses. Virtual companies may appear depressing on the surface. But, they reduce the possibilities for unnecessary chit-chat and let people focus solely on their work.
Benefits Of Virtual Businesses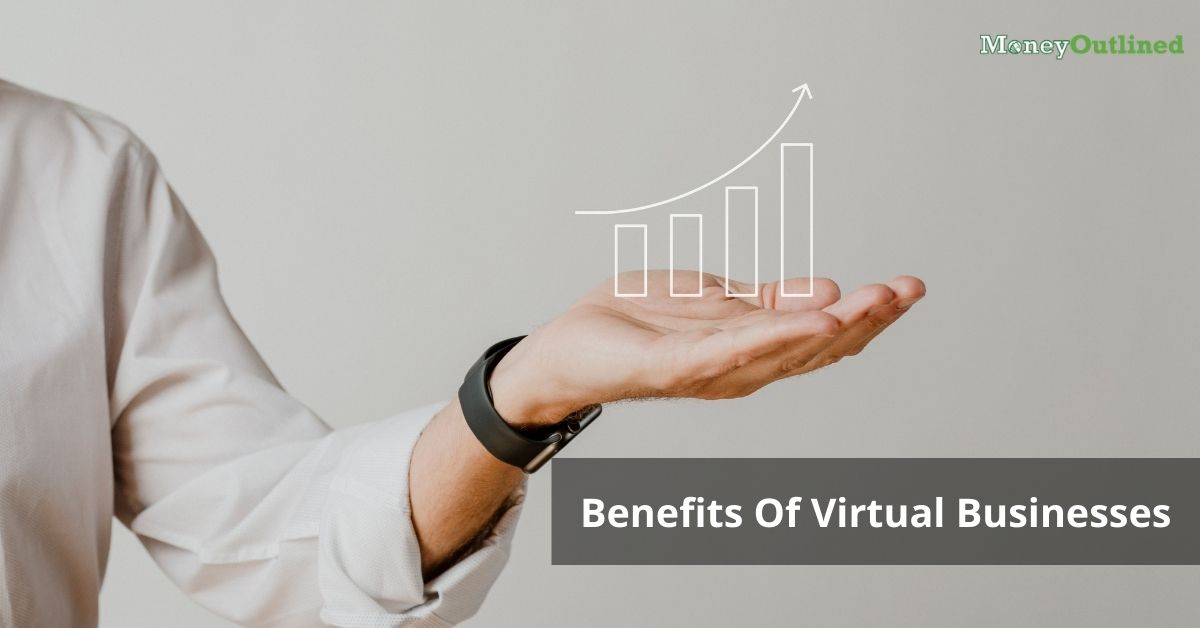 There are some prevalent benefits of running a virtual business. Let's take a look at them;
A brick-and-mortar business requires huge overhead costs because it takes up a lot of money to maintain the office space. But, virtual companies have a much lesser overhead cost, so their scope of earning more profit increases if they operate effectively on online domains.

Virtual companies can hire employees from all over the world. Since none of the employees require coming down to the office, the employer can recruit staff from any part of the world. As a result, they won't have to depend on local talent only.

Employees get to strike a perfect balance between their work and personal life. In addition, since employees don't have to spend time commuting, they save a lot of time for their individual work.

Virtual businesses are known to induce greater productivity in employees. Due to working in a distraction-free environment, employees cast their complete focus on the work only, so it makes them more skilled and knowledgeable.
Also Read: How To Become A Financial Analyst?
Challenges Of Virtual Businesses
Besides these earlier mentioned benefits, virtual businesses also have a lot of drawbacks. It's time we shed some light on them too;
A virtual business does not have any chance to have face-to-face communication with the employees. So, it can give birth to unnecessary conflicts, confusion, work errors, and blunders.

The work culture of a virtual business is not so productive or interactive because none of the employees bond with each other. So, expecting help from someone if the other employee needs it is difficult in such a company.

The employers don't know the employees personally, so tracking down their performance metrics also becomes difficult. In addition, it's tough to conduct checks on their daily performance and give them constructive feedback in such a work culture.

Virtual businesses have a lower rate of employee engagement and employee trust. It often leads to unnecessary team conflicts that hamper the organization's goal accomplishment.
Also Read: Bankruptcy – A Complete Beginners Guide
How To Run A Virtual Business Effectively?
Every business has its pros and cons, and since virtual companies have become so common in these last two years, it's better we know how to run them effectively. 
Step 1: Create A Suitable System For Goal Setting
You can use digital OKR tools to set goals and allocate tasks. Once you appoint this tool, all team members of your virtual business will clearly perceive their functions. In addition, you'll have data-driven graphs to help employees understand company goals more effectively. You can also arrange for weekly check-ins to discuss their performance progress. 
Step 2: Optimize Business Finance
Most virtual businesses don't require high start-up finance, but that doesn't mean you will focus less on financial management. Instead, it's better to lay clear guidelines about expenses and give responsibility to an individual rather than a team. Tools like Team Pay are practical for such purposes for making clear receipts of each expenditure.
Step 3: Appoint The Right Technology For Task Management 
Some of the most effective tools for task management in virtual businesses are Skype, Slack, or Dropbox. These tools can handle accessible communication among all employees and can also manage their tasks on hand. Communication and messy task management are some of the significant challenges of virtual companies, so these tools will ease up that.
Step 4: Plan For Remote Hiring And Outsourcing
Don't think that just because it's remote hiring, your interview process doesn't need to be as rigorous as it usually is. You should have multiple shortlisting rounds before selecting the employee as you can't meet them in person. You can also involve the departmental heads in the hiring process so that they can assess their skills. 
Step 5: Create A Kick-Ass Marketing Strategy
You can use social media management tools to determine your target audience's buyer persona and demographic details. After that, you should figure out your sales funnel and marketing avenues. Next, appoint a reliable CRM tool in your office to understand the customer journey and study analytics to set your marketing plan.
Step 6: Conduct Virtual Team Training
You can use Zoom to train the employees online. In fact, this is the most effective tool for conducting online seminars and training sessions in most virtual businesses worldwide. Give your employees access to online courses, create team tasks effectively, and create clubs with employees having shared interests. 
Step 7: Analyze And Improve
After some months of running a virtual business with these strategies, analyze how your business has performed. Then, study the data, and compare your performance with your competitors. Once you examine the details, it's time you make the necessary improvements in the existing business strategy and keep it running. 
Wrapping It Up
Running a virtual business may not be easy, but it is not very tough, given the proper guidance. Just like we have helped you with some basic steps of running a virtual company, we can also help you in the future if you want to expand such a business. But, before that, give this article a thorough reading, and see if these steps make sense to you or not.
If you have any query regarding this, share with us in the comment section.
More Resources: