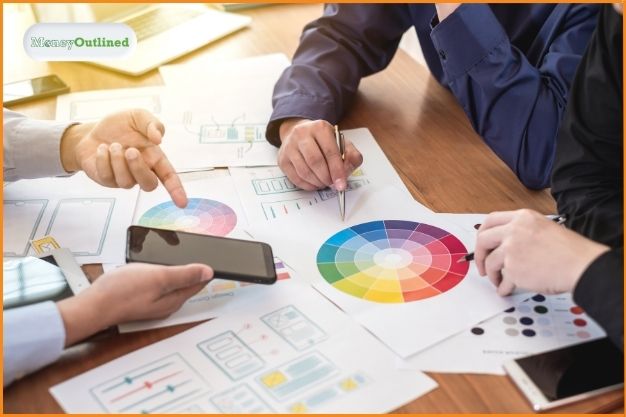 All businesses need to promote their products to increase sales and revenue. Therefore, a sound marketing plan is necessary to promote those products. But you may be wondering now, where does branding come into the promotional mix?
Branding is the act of giving your products and services an identity of their own. It is the process of providing value to tour customers using your products. Here, all of them may have some unique element that makes them different from other similar products. This uniqueness is what branding strives to create.
In this article, you will learn about the various ways you can become a brand consultant in 2022.
What Is Branding?
Before we dive deeper into the role of a brand consultant, let us first know what branding is. As mentioned briefly before, branding is the act of giving your company an image – an identity of its own so that your products are recognizable in the market.
It is the act of shaping the image of a company in the minds of customers. Brand consultants provide specific unique elements in a product that customers can associate with a single brand. A basic example of branding is how each company has a logo that customers can see and identify the Brand's product.
Branding refers to providing products worth certain unique elements like an easily recognizable logo, packaging that goes with the brand values, and more. For example, Fiji Water, a bottled water manufacturer, has the motto of providing the purest drinking water.
Therefore, to reflect this purity, they have made their bottles fully transparent with a few images of leaves and vegetation – an ode to its motto of providing pure natural water.
Who Is A Brand Consultant?
Did you know that companies spend a considerable amount of time and money to create the best branding possible for their company? So the first step they take after developing a product is to hire a branding consultant to market the product to customers meaningfully.
Therefore, you can understand that a brand consultant is a branding specialist who offers solutions to businesses to create a successful brand image. Their job is to provide marketing strategies to companies to make their products more appealing and generate trust and loyalty amongst the consumer base.
Your brand consultancy job description should be something like this:
1. Understand The Company
Understanding a company refers to analyzing a firm's products and figuring out what value they provide to the customers. For example, Apple offers premium phones, computers, and laptops to customers that are way better in quality compared to other smartphones in the market.
2. Research And Provide Market Insight
One of the first aspects of branding is researching the market and the industry. We mean here to study the demands of the consumer base research about what other firms in the same industry are doing to generate leads.
3. Help In Designing Products
After you have done your research, you can now make plans to create the perfect product. While the development of the product might not be your task, you will be responsible for aiding in designing the packaging of the product.
4. Creating And Implementing A Sound Marketing Strategy
You will be responsible for developing a marketing strategy like themed advertisements and a brand logo to help customers identify the company. This also includes associating slogans and catchphrases with the company name to become recognizable by customers.
Since you have researched the market and its customers, you can figure out the best advertising and branding techniques to attract more customers. For this, you should create multiple strategic marketing plans to spread the brand name to the customer base through the value provided by your products.
How To Become A Brand Consultant in 2022?
If you have decided to know how you can provide brand consultancy services as a career, then you need to take care of some steps first. They are:
1. Study The Market
The first step you need to take is to study the market with a magnifying glass. We mean that you should have every knowledge about the market, including its available products, customer demands, and competitors' performances. This will let you pinpoint any market opportunity that can come at any time.
2. Learn Modern Branding Techniques
Learning modern branding techniques and strategies is essential to becoming a successful brand marketing consultant in 2022. Current methods that can attract customers, like modern logo designs, advertising trends, production techniques, and much more, will benefit you if you can learn and apply them practically.
3. Form A Portfolio
Before looking for marketing consultant jobs, you can start as a freelance brand consultant for newer companies like a startup business. This is essential to gain experience and money because you will not be committed to a contractual job. As a freelancer or even as an intern, you will gain experience over time.
We believe this is important because it helps you form a portfolio of branding stories. These will help land more prominent and better jobs in the future.
4. Start Networking
Networking is one of the most overlooked aspects of branding. This is because creating a network of people that can link you with some of the most valuable resources for branding will be a big bonus for you before you look for brand consultant jobs.
Using social media sites like Facebook, Instagram, Twitter, and LinkedIn helps connect with other branding specialists and consultants with more experience than you. Creating a good connection with them will allow you to learn new branding techniques that they have implemented to varying success. See what works and what doesn't.
Also, social media as a branding platform (especially Instagram) has been increasing over the years. Therefore, making a good presence on social media with ample high-profile connections will allow you to market your Brand through this platform.
5. Generate Leads
Generating leads is one of the essential elements for a brand consultant. This is because apart from providing, your primary aim is to create more sales through your branding activities. If you cannot do that, you have failed in your branding activities.
Therefore, focus your branding activities on generating customer interest and increasing their satisfaction. This will one day lead to more sales for the firm, resulting in you receiving a fat paycheck for providing brand strategy services.
Frequently Asked Questions (FAQs)
Conclusion
The position of a brand consultant is a constantly evolving one. This is because the market trends are continually shifting due to changes in customer preferences and the launch of new products. Therefore, if you want to become a branding consultant, staying up to date with all market trends and planning innovative branding strategies around them will make you a professional in the field.
If you want to know more about marketing and branding, share this article with your friends and read our other articles!
Also Read: